Enhance your campaign's engagement by sending personalized emails. To do so go to your campaign and click on the "Emails" tab. There, you can choose to send automated emails from our system!
Start by picking from which emails the emails will be send out.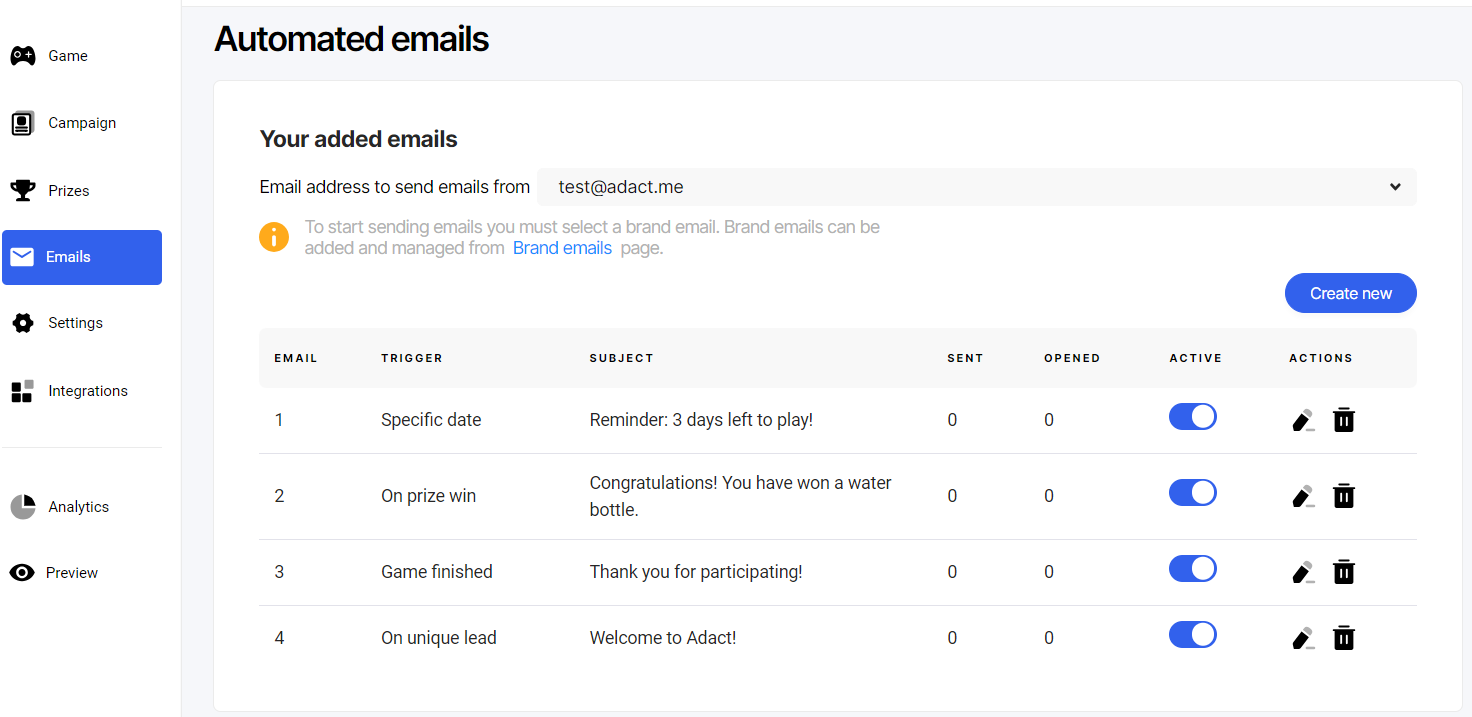 You can see how many emails were sent and opened, control whether emails are being sent or not, and make changes to the email template using the pencil icon or delete it with the trash bin icon.
How to edit the Emails that will be sent out?
Click on the "Create new" button and choose from the 4 different email triggers, which are:
1. On prize win
Send emails to prize winners to recognize participants' achievements, communicate prize details clearly and keep them engaged.
2. On unique lead
Send out an email when you have received an unique lead.
Emailing unique leads helps you stay connected, share info, and build trust.
For example: you can make an email template to send informative emails about your company
3. Specific date
Timing is crucial in gamification marketing. It engages players when they're active, creates urgency, coordinates events, and personalizes communication.
Add a date and time when your email will be sent on.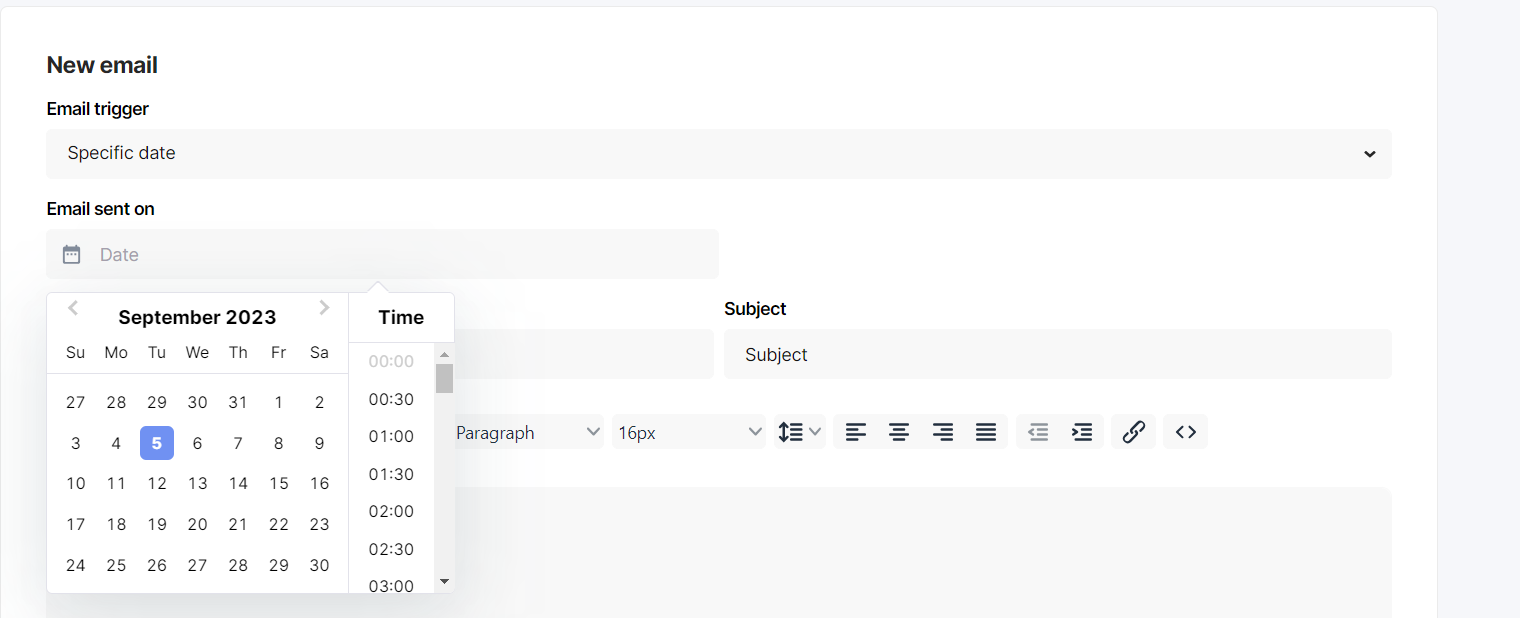 For example: think about sending a message to remind participants to play your game again before it ends.
4. Game finished
Sending an email to participants after a marketing campaign ends can help you express gratitude, gather feedback, offer post-campaign incentives, maintain brand engagement, and build lasting relationships.
For example: send an email to participants after they finished the game, thanking them and sending additional information about your company
E-mail Options
"Sender name" - The name that appears in their inbox on who sent the e-mail
"Subject" - The subject line of the e-mail that gets sent
Customize your email templates by creating or editing them. To send out these emails, connect your brand by setting up the email address used for sending. Simply add a brand email and select the new address from the "Email address to send emails from" dropdown menu. The default address where automated emails are sent from is info@adact.me.
The content
You can either use our text editor to design your e-mail or you can also design the e-mail in HTML (manually or use any 3rd party e-mail design tool) and copy-paste your HTML design to the modal that opens when you click the "<>" icon in the toolbar of the rich text editor.
Using dynamic fields in the e-mail
Whenever you add a dynamic field in the body, the text gets replaced with the actual value. All the styles of that text will still apply.
Here are the dynamic fields to use:
#email# - Replaced by the e-mail of the winner
#full_name# - Replaced by the full name of the winner
#prize_name# - Replaced by the name of the prize they won
#prize_code# - Replaced by the unique code that is associated to their prize.
Example case:
Addy won a 10€ discount with the unique voucher code "CJVOUHES". To send him an email with the prize information, write the e-mail content as follows:
Hey #full_name#
Congratulations! You just won #prize_name#! To redeem your prize go to app.adact.me/join and use the code #prize_code# on checkout!
---
The e-mail sent out will read as:
Hey Addy
Congratulations! You just won a 10€ discount! To redeem your prize go to app.adact.me/join and use the code CJVOUHES on checkout!
Until the campaign is published, no emails will be sent out. To experience the email sending process, you must first publish the campaign.